Albums
Road Trip
There are 17 songs plus a surprise on the album.   For this 10th anniversary recording, Ross and Valina wanted to create something special, so they invited a few friends to join in the journey.  With special guests Lynlee Alley,  Kevin Hatcher and Alex Meixner lending a hand, along with Kerry Jones on tuba and Eric Miculka on drums, this recording takes you places.  Valina's Dad is even singing in Dutch!  It blends the traditional sounds from Lynlee and Kevin, the unique stylings of Alex, and youthful approach that Ross and Valina give to the music.  This is the second recording, celebrating the band's 10 year anniversary.  It received a great review (click on the image below) from Justin Everett of the Texas Polka News.  Jump in the car and ride with them on your next road trip!

Visit the online shop to purchase now.

OR, get it any place Das Ist Lustig is playing. 

It's also for sale online at PolkaBeat.com and The Polka Connection
"We listened to your CD Road Trip while driving down for the dance today!" Margaret and Dayle, Jan, 2018
There are 20 songs on the 2013 PACE nominated album, many that were requested special by friends and fans.  With the addition of their amazing drummer, tuba and fiddle player, the songs you're used to hearing from the duo shine with life and style.  They're very excited about this first recording endeavor, and can't wait for you to hear the work they've done!

Visit the online shop to purchase now.

OR, get it any place Das Ist Lustig is playing. 

It's also for sale online at PolkaBeat.com and The Polka Connection

"Your music has made our remodeling job a joy!"  Darlyne and Dennis, guests at Rudi Lechner's and King's Biergarten 

"We were listening to your CD on our way over here for dinner, then we walked in and said to each other, hey, it's them!  We love your music!"  Valerie and John, guests at Rudi Lechner's.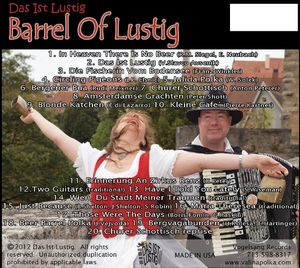 Want to hear more? 


Watch for us on the "Mollie B Polka Party" on RFD TV
Listen for us on the weekday 11am Michael Craig Polka Show 98.5 KRXT in Rockdale.

Listen for us on Saturday Morning Dance Time with John Dujka on 1390 KULP in El Campo.

Call or e-mail the shows and place a request to hear your favorite selection from our album!



The Drama of the making of Barrel Of Lustig


Do you like long stories?  Well, grab a warm pretzel, a cool German beer and settle in.

This first project took waaayyy longer than it should have, but the first album is here, one box is already sold out, and we're finally feeling a little better about the whole thing.  It really was a bumpy ride from start to finish. 

We started on Thursday Feb 23 2012 with a list of 20 songs we wanted to record, a ton of enthusiasm, and a little impatience.  (We were supposed to begin recording earlier in the month, but there was a customer in line ahead of us, and their project was not quite finished yet)  Then, on our first day in the studio, our recording engineer tells us he's just landed a new job - a second full time job.  That meant we could record about once a week for about 6 hours at a time - his only time off when he wasn't sleeping or eating.  The man literally did not have a moment to himself for 3 months straight!  He's an excellent engineer though, so we did not want to move the project somewhere else.   Even with the bad news about his availability, the first day went pretty good. 

The second day a week later, not so much.  We layed down tracks to our favorite yodeling song: Die Bergvagabunden.  When we began to sing our parts to the recording, we realized we skipped one measure in every verse.  Back to the drawing board.  After we re-recorded, and laid the vocal tracks down, we left for the day.  The next week, some of the tracks moved and were no longer in synch with each other.  Computer glitch number 1.  The next week, Ross laid down the very difficult Maria Theresea tracks.  Because of the song's "rubato" nature, we couldn't use the click track that is so necessary when in the studio.  After a couple of hours trying to put accordion and autoharp to the vocal, we gave in, and re-did the vocal.  Then, the second computer glitch.  Kerry's computer saves automatically every 2 minutes, and he backs every thing up on a second disc after each session.  We went on to record a couple of other songs, and when we went back to check over our days work, the Maria Theresea tracks had completely vanished.  Ross recorded it again, and that one stuck. 

The third day, yet a week later, we had a studio full of family and friends who were helping us with our sound effects.  That day went well, thank goodness!

There were a few other stumbles along the way, and one song that was supposed to be on the CD that got dropped - an A capella piece that for some reason, after two hours, never did sound right.  Don't worry, the tracks were saved, and may well end up on the next CD.  In April and May, studio time was almost non-existant.  We were performing every weekend, and Kerry was working double hours every weekday.  He laid down his tuba tracks and worked on some mixing, and we went to Holland Texas where our drummer Michael put his tracks on.  We brought the information back to Kerry, who began synching the drum tracks to the music - one biiiiig nightmare if you can imagine...  Tedious tedious work, but he did a wonderful job, as I'm sure you can hear. 

Then, towards the end of May, when some really big storms moved through the area, lightning hit the building next door to Kerry's studio.  All of his components were unplugged or on surge protectors, but the magnetic field generated by the lightning took out the audio digital converter.  It took 5 weeks to get it repaired and returned. 

We were able to get back into the studio on July 5 and 12.  Things were sounding good though, and mostly on track.  The artwork and layout of text I had done for the cover had been ready for a long time (besides little tweaks to color scheme), so when we were finished listening to the master for any last minute changes, we could send everything in to the duplicator at once.  We got it in and received proofs by Aug 1.  Everything looked and sounded good, so we approved it.  It was going to ship on August 16 and arrive the 17th or the 20th.  They e-mailed us on the 16th and told us the cover had scuff marks on it and needed to be reprinted.  (Giant grooooaaaannn!!!)  They told us they could ship it to arrive on Wednesday Aug 22.  It arrived at 7:00pm, after we had run out of fingernails to bite!  But, it made it here, and the project was finally finished!   (Giant happy siiiiiggghhhh!!!)    We video taped ourselves opening up the first box.  The CD release parties took place on the 23rd and the 25th of August.  It felt good to finaly have them available for our friends who had been asking about them for months.