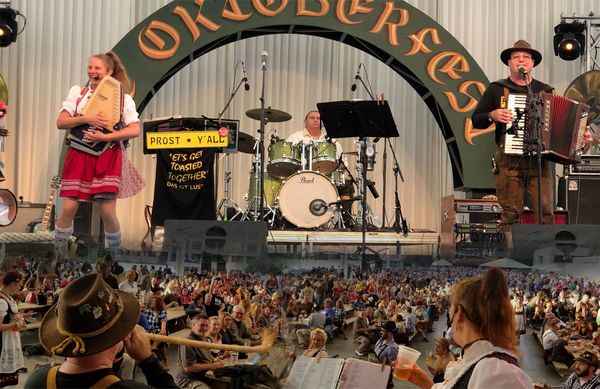 The name translates to "That's Fun" and this German Band based in Houston, Texas delivers.  Das Ist Lustig performs all over southeast Texas, as well as touring the southeast US.  They often return to entertain in Alabama, Florida, Georgia, Missouri, Oklahoma, Louisiana, and Tennessee at least once a year.  They love to share their energetic style with restaurant clientele, festival patrons, corporate events, private parties, and students of all ages.  They play for their travel guests while touring Europe in the summertime, where locals often ask what part of Germany they're from.  They've been described as "Spitze" by locals in Oberammergau, Germany.   A little Dutch, Czech, Classic country and American variety is also incorporated into the repertoire. 

Das Ist Lustig is one of the most requested traditional German folk bands currently touring the southern part of the USA, with over 150 performance dates annually.  More than 50 of those in just September and October.  They perform traditional German and Alpine music with high energy, and pure love for the music they play.  Their enthusiasm is contagious in every venue where they entertain.   
Duo, trio, or four piece band, Das ist Lustig is the right choice.
Click here to see their upcoming public performances. 
Click here for the full calendar.
Click here to learn more about the band and its members!  
Click here to see where all they've been!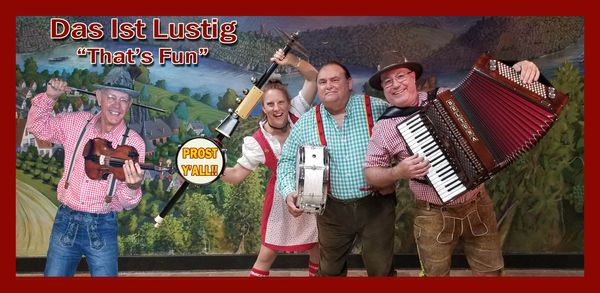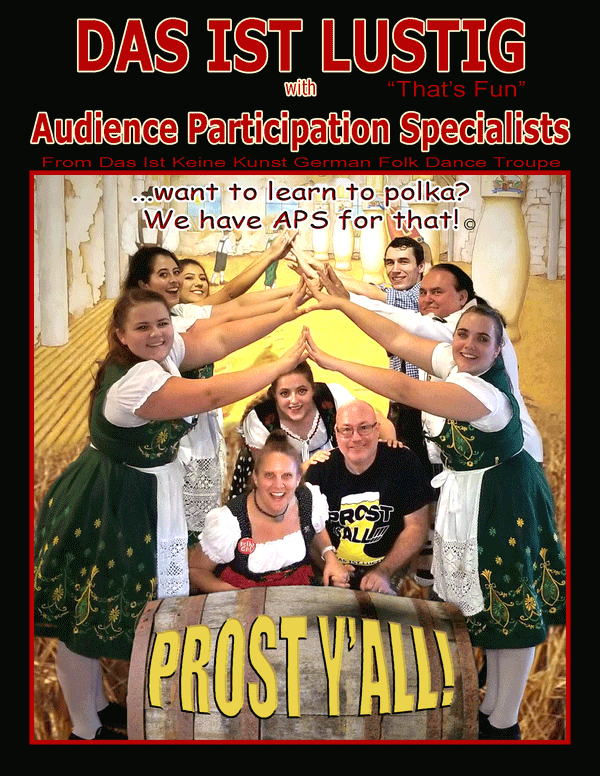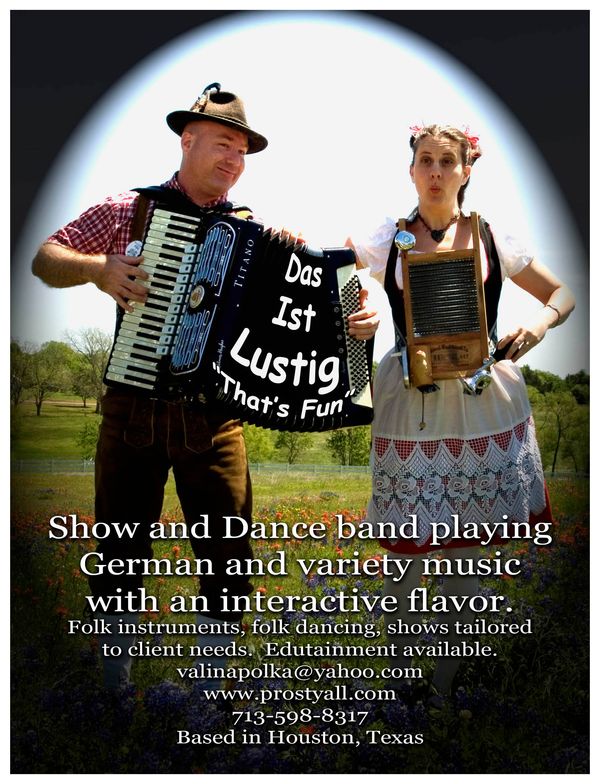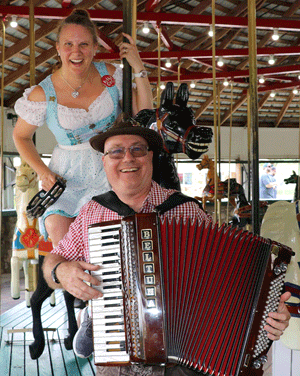 Duo, Trio, Four piece, Dance band or Show band with folk dancers, Das Ist Lustig promises Gemutlichkeit (a good time) for all.  Polkas, waltzes, and two steps are played on accordion, autoharp and traditional Alpine instruments like tuned cowbells, Bavarian xylophone, Alphorn and singing saw.  Drums and / or tuba fill out the sound.  Folk Dancers can lead dancing and singing along.  Dancers can also perform a few Traditional Schuhplattlers (the famous shoe slapping from Bavaria and Austria) as part of the show.  Shows can be very interactive; guests are invited to play the tuned cowbells or other hand held instruments.  The folk dancers become Audience Participation Specialists, leading social dances and singing along.  With yodeling, table pounding, folk dancing, and a little organized chaos, Das Ist Lustig can transform any place into a boisterous musical playground for Kindergarten age to Biergarten age alike!

German style party games, unique team building exercises, and folk dancers are available by request.

For a complete bio, click here.

To see where they've been, click here.

To see the three or four piece dance and show band in action, watch for them on the Mollie B Polka Party, or catch them at a German festival near you!  To see Das Ist Lustig (the duo) in action, check out their youtube links, or see them up close and personal "Stubenmusi" style at The Sauer Kraut Grill in Richmond, TX.  Check the calendar for the most up to date information.

For price and availability, call or e-mail: (area code 713) 598-8317;  prostyall(at)windstream.net

"like" them on Facebook


Mary Grace at the University of Texas ITC (Institute of Texan Cultures') Texas Folklife Festival in San Antonio wrote a letter of recommendation for the duo.